Currently viewing the category: "projects"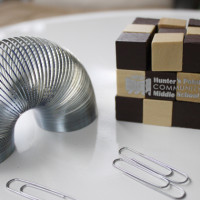 I designed a slinky! To clarify, I designed a logo that was put on a slinky – but this has to be up there with coolest products I've seen my design on.. and for a great new school.
The logo was for Continue Reading →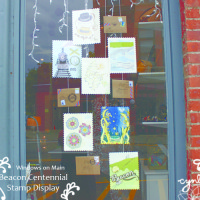 It was a great opening weekend. Lots of amazing window displays up in Beacon, NY. I'll have to take another stroll down main street because it got dark before I could see all of them.
Here's a close up of my stamp designs. My favorite one is the fireflies. There are […]
Continue Reading

→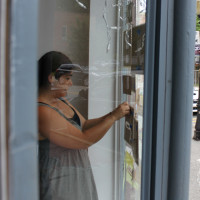 I just designed and put up my first window display! It's kind of a mobile of stamps and envelopes with designs that celebrate the Beacon Centennial – the theme of Windows On Main this year.
Opening party is tomorrow (Saturday the 10th) and hopefully I […]
Continue Reading

→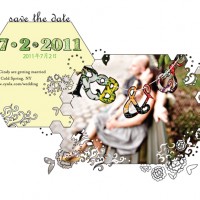 Speaking of mini garlands (from my post yesterday), I made this one for our engagement photos. I drew the letters making sure there were loops to put a string through and painstakingly cut it out of cardboard. Then I cut out a bunch of shapes from origami paper and modge podged them on. […]
Continue Reading

→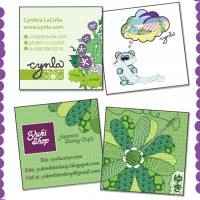 Today, I thought i would share my business card designs. The top one is my very first design for my card business. I only did a run of 100 to start and I'm out! I thought I would do a new design every 100 cards. If you […]
Continue Reading

→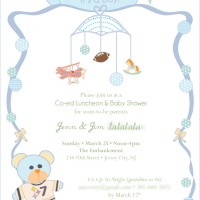 Happy Friday! I decided to make Fridays the day when I post custom work I've done: logos, flyers, invites, etc. It's a fresh break from my normal routine of creating for a market because it's fulfilling a specific client vision. Always an adventure.
This was a baby shower invitation I did […]
Continue Reading

→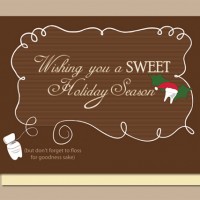 This is a card I made for a friend's dental practice. I never thought I'd be making dental cards, but it was a lot of fun to make!
Front: Wishing you a SWEET holiday season
(but don't forget to floss for goodness sake)
I do have a huge sweet tooth, so […]
Continue Reading

→
sign up for cynla blog updates

about me

Hi! Thanks for visiting. Drawing and creating has become a way for me to de-stress. I'd like to do it more often. This is a space for me to share my art and inspiration, my card designs, and to remind myself to stress less.

My card business and moving outside of NYC [gasp] is a new adventure in my life and I'm happy to be able to share it with you. Feel free to drop me an email cindy [ at ] cynla.com, leave a comment or two, or visit my website (www.cynla.com) and shop (cynla.etsy.com).

Happy de-stressing!

~ Cindy

from the shop

archives