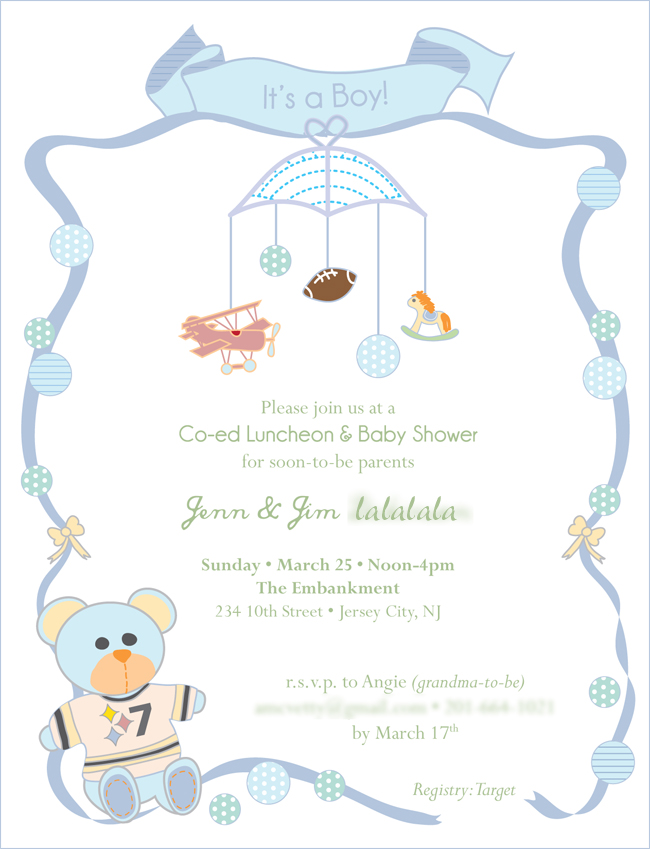 Happy Friday! I decided to make Fridays the day when I post custom work I've done: logos, flyers, invites, etc. It's a fresh break from my normal routine of creating for a market because it's fulfilling a specific client vision. Always an adventure.
This was a baby shower invitation I did for my lovely neighbor's sister [personal info has been blurred]. I asked if they had a theme for the shower or any colors they liked and this is the general information I received, "Since it's a co-ed shower, the husband suggested Steelers. The wife said ok, but then the mom/future grandma said NO. The mom said, 'well, maybe we can put a football on it.. no, that's stupid."
So a lot of direction and not much direction at the same time – my favorite. I came up with this teddy bear in a crib design – Steelers jersey, mobile with a football on it to please everyone. It went over well and my neighbor said everyone at the shower was talking about it. yay!
Even though women are my main target market in the card world, I find myself trying to use neutral colors and not to be too "girly" and pink in my work. I don't know if it's because men don't usually browse cards, but I find a lot of men liking my designs. I'd like to appeal to both markets. If you have any ideas on this, please feel free to share in the comments.
sign up for cynla blog updates

about me

Hi! Thanks for visiting. Drawing and creating has become a way for me to de-stress. I'd like to do it more often. This is a space for me to share my art and inspiration, my card designs, and to remind myself to stress less.

My card business and moving outside of NYC [gasp] is a new adventure in my life and I'm happy to be able to share it with you. Feel free to drop me an email cindy [ at ] cynla.com, leave a comment or two, or visit my website (www.cynla.com) and shop (cynla.etsy.com).

Happy de-stressing!

~ Cindy

from the shop

archives