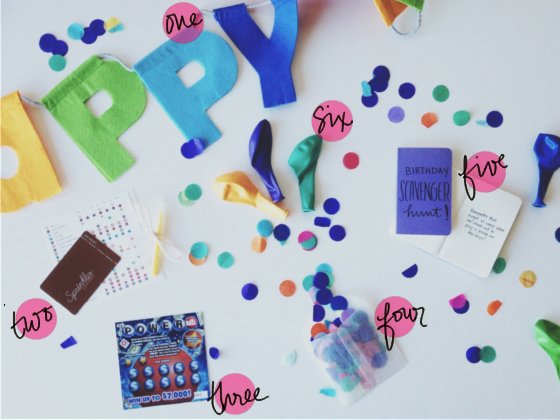 Ink Lemonade has a cute post 6 gifts you can send in an envelope. I love this image she created and you can read her list here. Her suggestions are for 1) a birthday garland, 2) $5 cupcake or favorite shop giftcard, 3) scratch ticket, 4) mini confetti bag, 5) mini moleskine notebook that you can write poems, messages, art or scavenger hunts in — love this idea, 6) balloons that you can even write messages on.
I'd like to add some of my own that I've done or want to do ::
– homemade bookmark with a favorite quote or little drawing
– stickers – everybody loves stickers
*- get your favorite pictures of you and the receiver, or your favorite places, etc. Order wallet prints from Walgreens for $1. [You can do this at the store in 2 seconds if you bring a flash drive with the images on it or order online and pickup/deliver. CVS also does this, but you get more prints and it costs a little more]. You get 4 mini prints that you can cut up and keep 1 for yourself, give 3 to friends. These are great for desks and since no one prints pictures as much anymore, it's a great surprise and personal touch!
– giftcard for a kindle book
– take that mini moleskine notebook and write down some good and funny memories that you've shared. I like to write down funny quotes that people have said and then whip them out years later – it's always hilarious and often not remembered.
– I also love this idea of a mini garland that you can send to someone and they can hang by their desk their birthday week. I'm picturing punching circles, putting their name across it, and writing or drawing little messages on the backs. Attach them to a string and voila. Also a great project for kids.
Have more ideas? Have you created any of these before? I'd love to see them!
Photo by Ink Lemonade. Post originally seen on Oh so beautiful paper.
sign up for cynla blog updates

about me

Hi! Thanks for visiting. Drawing and creating has become a way for me to de-stress. I'd like to do it more often. This is a space for me to share my art and inspiration, my card designs, and to remind myself to stress less.

My card business and moving outside of NYC [gasp] is a new adventure in my life and I'm happy to be able to share it with you. Feel free to drop me an email cindy [ at ] cynla.com, leave a comment or two, or visit my website (www.cynla.com) and shop (cynla.etsy.com).

Happy de-stressing!

~ Cindy

from the shop

archives