There is a post-it art show. How amazing is that? I would love to go if I was in the LA area – here's more info if you are. I'm going to have to start taking post-its more seriously.
Here is more art from the show hosted by Giant Robot. Each original post-it is $25 at the show. Pretty cool! I could picturing putting one of these in a cute little frame.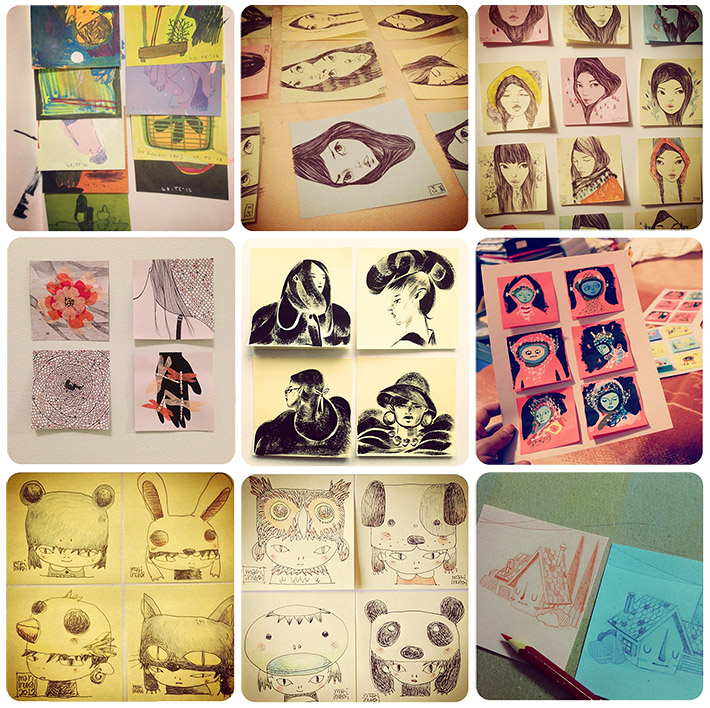 The top post-it notes are by Andrea Kawasaki. She does beautiful erotic/unexpected paintings of women, usually on wood. I see her stuff all over the place and she's one of my favorite inspiring artists. I went to her site and here is some handcut paper art she filed in "doodles." I wish my doodles looked like this!
I think the size of the paper you're working on definitely affects the outcome. I might have to try sketching on some smaller pieces of paper. How inspiring!
Images from Supah cute and Andrea Kawasaki.
sign up for cynla blog updates

about me

Hi! Thanks for visiting. Drawing and creating has become a way for me to de-stress. I'd like to do it more often. This is a space for me to share my art and inspiration, my card designs, and to remind myself to stress less.

My card business and moving outside of NYC [gasp] is a new adventure in my life and I'm happy to be able to share it with you. Feel free to drop me an email cindy [ at ] cynla.com, leave a comment or two, or visit my website (www.cynla.com) and shop (cynla.etsy.com).

Happy de-stressing!

~ Cindy

from the shop

archives