Oh Calvin. You're so determined and optimistic.  Sound familiar? It does to me!
I'd like to think that if I make a lot of great cards, and keep designing, the orders will just start pouring in. Marketing and business is the hard part for me – or maybe just the scary part. I'm hoping to just get "discovered." Or I don't put my cards out there because everything isn't perfect yet, and I need this done, and this perfected, and this many designs.. so I wait. Against a tree. With whatever I'm doing to procrastinate that day. I read a ton of business books and blogs to "get ready" and then just add to a giant list of stuff to do.
So, inspired by this Calvin & Hobbes cartoon (and a bunch of other signs), I'm going to make more efforts to get out there. I'm going to start tackling that list of companies I want to pitch to. I'm going to start crossing things off the giant To Do list! Start doing and stop making more lists. Day by day. I'll keep you updated.
Have you ever been scared of your To Do list so much that it prevents you from completing anything?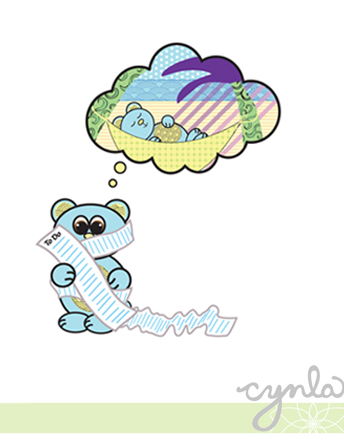 Calvin & Hobbes – great cartoon – is from gocomics.
sign up for cynla blog updates

about me

Hi! Thanks for visiting. Drawing and creating has become a way for me to de-stress. I'd like to do it more often. This is a space for me to share my art and inspiration, my card designs, and to remind myself to stress less.

My card business and moving outside of NYC [gasp] is a new adventure in my life and I'm happy to be able to share it with you. Feel free to drop me an email cindy [ at ] cynla.com, leave a comment or two, or visit my website (www.cynla.com) and shop (cynla.etsy.com).

Happy de-stressing!

~ Cindy

from the shop

archives