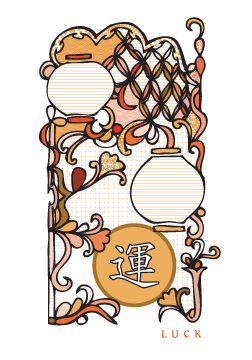 It's regents time here at schools and it's also testing time for Japanese universities. The "National Center for University Admission" was held on January 14th and 15th in Japan and required for all school applicants. Around this time, a lot of lucky charms are being sold in Japan. The most popular are charms purchased from a shrine or temple.
However, Kit Kats are also popular because the Japanese pronounce it as "kitto katto." It sounds like "kitto katsu" which means "You will surely win." Parents often buy Kit Kats for their children on exam days. Isn't that cute? I'm going to start buying kit kats for my exam-taking friends. Or maybe I should just produce a candy bar called Luck. Check out my lucky lantern design which coincidentally is the color of Kit Kats!
This information was taken from a blog post by Namiko Abe. You can find more about Japanese culture from her About.com guide here.
sign up for cynla blog updates

about me

Hi! Thanks for visiting. Drawing and creating has become a way for me to de-stress. I'd like to do it more often. This is a space for me to share my art and inspiration, my card designs, and to remind myself to stress less.

My card business and moving outside of NYC [gasp] is a new adventure in my life and I'm happy to be able to share it with you. Feel free to drop me an email cindy [ at ] cynla.com, leave a comment or two, or visit my website (www.cynla.com) and shop (cynla.etsy.com).

Happy de-stressing!

~ Cindy

from the shop

archives