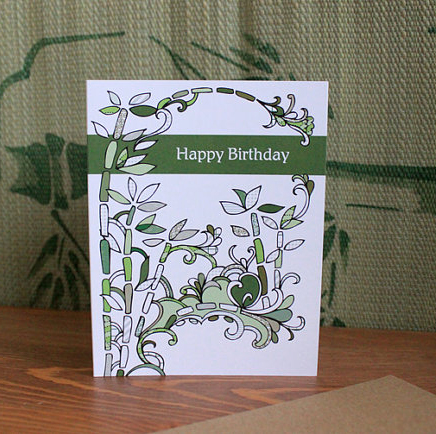 Happy day after Earth day! I've been looking into recycled paper options and found a printer that prints on Bamboo – Tree-free Paper! I'm excited to get some samples and to start creating prints of my art on this great-for-the-environment paper. Why is bamboo paper better than recycled stocks?
Bamboo is a quickly renewable resource. Bamboo is the single fastest growing species of plant on the planet with some species growing more than a meter a day. In sharp contrast to trees which require decades to recover from harvesting, bamboo reaches maturity in 3 to 5 years or less and when it is cut, the stem is left in the soil to sprout a new shoot and start the growing process again. [Source: Bamboostock.com]
Also, the bamboo paper is recyclable, just like regular paper. Look for bamboo prints next month! I'm printing about 10 designs to start. If you like any of Cynla's cards that you want to see in a print form, that you don't see here, let me know! I'll consider adding it to the very first batch of prints!
Print designs that will be offered soon: [based on popularity!]
NYC, Brooklyn, Morning Glory, Clouds, Starry-eyed Animals, and possibly the Music design.
Above is my bamboo design card – it would be great to rerun this on the bamboo paper. It would be great to offer all my designs on the bamboo paper, unfortunately, not as cost effective. We have to support recycled options and sustainable papers in order for it to become more in demand and bring the prices down so small shops like me can afford to print on them! : ) The Bamboo card (not yet on bamboo paper, sorry) is available in my Etsy shop.
sign up for cynla blog updates

about me

Hi! Thanks for visiting. Drawing and creating has become a way for me to de-stress. I'd like to do it more often. This is a space for me to share my art and inspiration, my card designs, and to remind myself to stress less.

My card business and moving outside of NYC [gasp] is a new adventure in my life and I'm happy to be able to share it with you. Feel free to drop me an email cindy [ at ] cynla.com, leave a comment or two, or visit my website (www.cynla.com) and shop (cynla.etsy.com).

Happy de-stressing!

~ Cindy

from the shop

archives