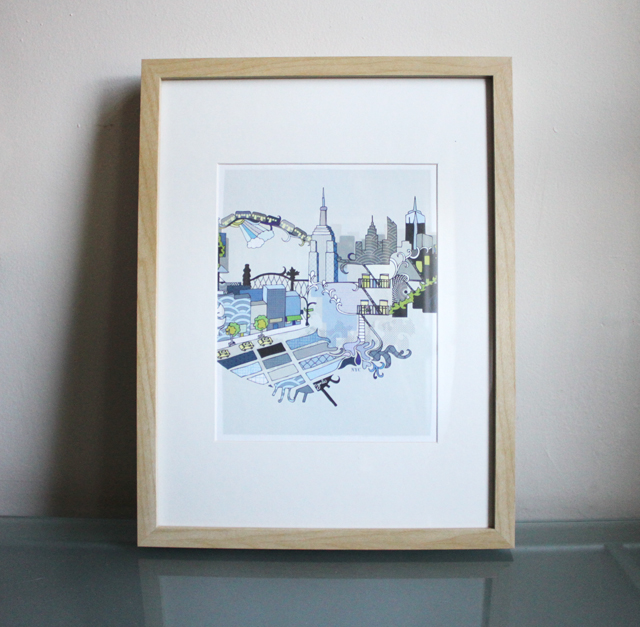 My first print!
How exciting! I loved making this – I incorporated the Empire State, Chrysler, Freedom Tower, Twin towers, subway, fire escapes, taxis and more. I love being inspired by NY and taking pictures everywhere I go. It's one of my favorite things about living here – never a dull moment.
However, I do have some news.. I'm taking a "leave" from NY and traveling with my husband in Central and South America! I'm starting CYNLA full-time in November! I'm super excited to give this business my all. It's been a struggle trying to work full-time at 2 jobs really.. and I don't know when a better time would be to take this leap! I'm making my debut at the oh so exciting, giant National Stationery Show in May. I'm overwhelmed and putting all of my effort into this one. I really want Cynla to succeed and want to be able to support myself and my family doing something I really love.
I'm going to miss my job at Crain and hope to keep in touch with everyone! You know who you are!
I've been working and living in NY for almost 8 years! We'll be back in 3 months so I can prepare for my tradeshow, but haven't decided on where to settle down yet. Hopefully we'll be inspired on our trip and all of life's answers will be clear – right?
I've been dreaming of owning my own business since I started designing.. it's finally happening. We're living our dreams. Yes, we are living on a beach for a while, so it will feel dreamlike, but we've decided to live how we have always dreamed of living, learn how to not be stressed, creating art everyday and being inspired instead of drained. I'll update you on the other side of this soul-searching vacation/mission : )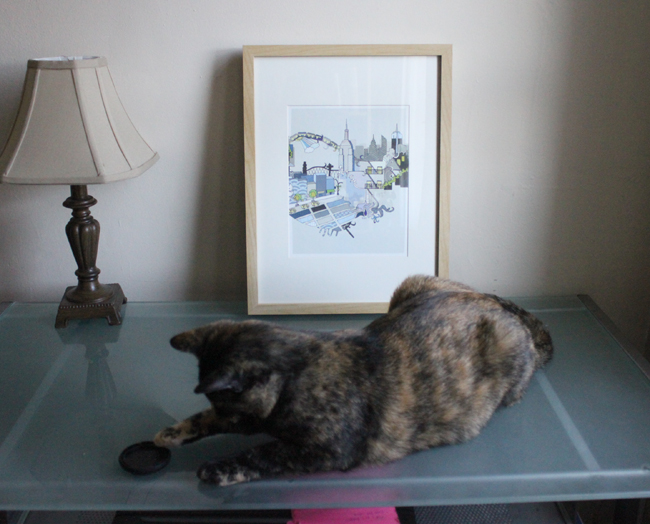 And here's Mali who jumped into my photo shoot to play with the camera lens cap. Always a kitten at heart – even though she's becoming cat-size.
I will continue to blog until I leave and hope to be posting from my travels!
If you like the NYC print, please click on this link and "admire" it on etsy, share it on facebook, or buy a print! I appreciate your support. You can use coupon MALINYC at checkout for 20% off your order. Offer good through October 19th.
sign up for cynla blog updates

about me

Hi! Thanks for visiting. Drawing and creating has become a way for me to de-stress. I'd like to do it more often. This is a space for me to share my art and inspiration, my card designs, and to remind myself to stress less.

My card business and moving outside of NYC [gasp] is a new adventure in my life and I'm happy to be able to share it with you. Feel free to drop me an email cindy [ at ] cynla.com, leave a comment or two, or visit my website (www.cynla.com) and shop (cynla.etsy.com).

Happy de-stressing!

~ Cindy

from the shop

archives