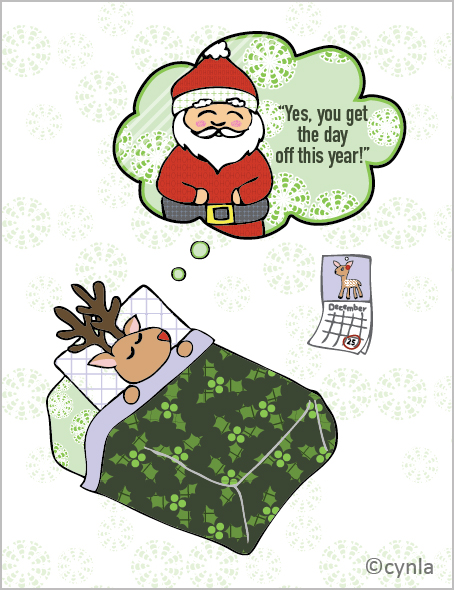 Everyone deserves a day off.. including reindeer. Don't you think?
However, a friend posted that santa should be saying something more along the lines of – will you pull my sleigh tonight. What do you think? Maybe I'm just projecting my desire of a vacation onto this dreamy reindeer. A possible inside message would be — Have a wonderful holiday vacation! Happy Christmas. Any thoughts?
I also made a reindeer dreaming of a pretty female deer who brings him presents – coming soon!
sign up for cynla blog updates

about me

Hi! Thanks for visiting. Drawing and creating has become a way for me to de-stress. I'd like to do it more often. This is a space for me to share my art and inspiration, my card designs, and to remind myself to stress less.

My card business and moving outside of NYC [gasp] is a new adventure in my life and I'm happy to be able to share it with you. Feel free to drop me an email cindy [ at ] cynla.com, leave a comment or two, or visit my website (www.cynla.com) and shop (cynla.etsy.com).

Happy de-stressing!

~ Cindy

from the shop

archives