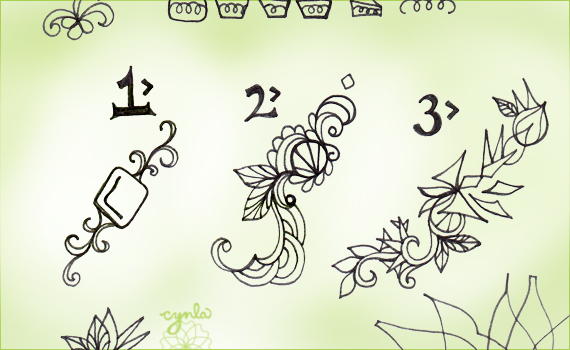 I'm getting things done: 1 2 3 today! Happy wireless Wednesday.
Unfortunately, my #1 is finding this DVD I borrowed from the library that jumped out of its case. Perhaps a kitten helped it escape.. They want $33 for it if I don't find it! When was the last time you bought a dvd for $33? I'm a big fan of renting from the free library, but this might turn out to be my annual dues.
I've been doing a lot of sketching lately. One day soon these will become patterns.. and then maybe they'll grow up to be bags, or iphone cases, or sheets – who knows? Which one do you like best? 1, 2, or 3?
—–
Update: I found the dvd! It fell down the secret crack in the back of my tv shelf! Anyways, I feel like I found $33 today! Now we can all move on. Sorry kittens! Not your fault.
sign up for cynla blog updates

about me

Hi! Thanks for visiting. Drawing and creating has become a way for me to de-stress. I'd like to do it more often. This is a space for me to share my art and inspiration, my card designs, and to remind myself to stress less.

My card business and moving outside of NYC [gasp] is a new adventure in my life and I'm happy to be able to share it with you. Feel free to drop me an email cindy [ at ] cynla.com, leave a comment or two, or visit my website (www.cynla.com) and shop (cynla.etsy.com).

Happy de-stressing!

~ Cindy

from the shop

archives