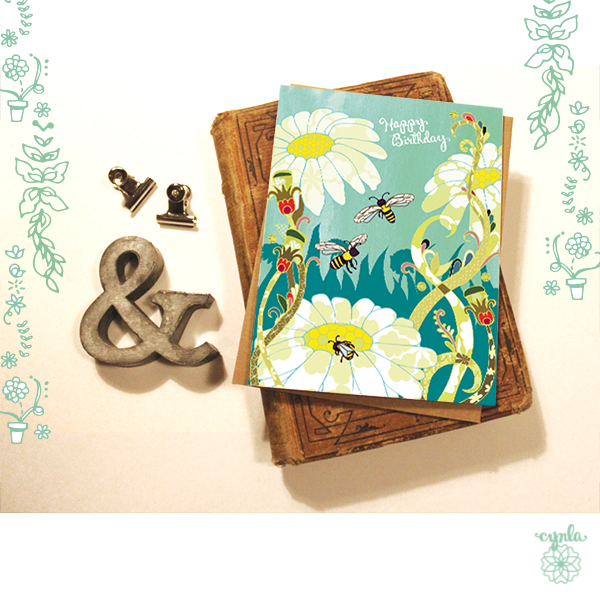 I spent a WHOLE day drawing yesterday. I think the last time I did that was January 2014 when I was attempting to draw 30 pieces (one a day) and had to draw a whole bunch of them in early February to catch up… Anyways, I feel like it was a mini vacation. I took breaks to eat, get more coffee, press continue on netflix or pandora, and even felt motivated to take a walk in the cold. I recommend a day of drawing and being creative to anyone.
Today, I have to catch up on lots – folding, sleeving and posting my Spring cards to my shop, getting together a new wholesale order!, preparing for my next catalog release in May, and going over my fair schedule for the year. It's a busy day.
In case you haven't visited my page lately, my retailer list is growing! It's such an accomplishment for me and so exciting. See if there's a shop near you, support a business that supports artists, and say hi to my cards!
Easy link: [ bee card ]
P.S. Do you follow me on instagram? It's where I keep most up-to-date with new offerings and shots from works in progress.
sign up for cynla blog updates

about me

Hi! Thanks for visiting. Drawing and creating has become a way for me to de-stress. I'd like to do it more often. This is a space for me to share my art and inspiration, my card designs, and to remind myself to stress less.

My card business and moving outside of NYC [gasp] is a new adventure in my life and I'm happy to be able to share it with you. Feel free to drop me an email cindy [ at ] cynla.com, leave a comment or two, or visit my website (www.cynla.com) and shop (cynla.etsy.com).

Happy de-stressing!

~ Cindy

from the shop

archives