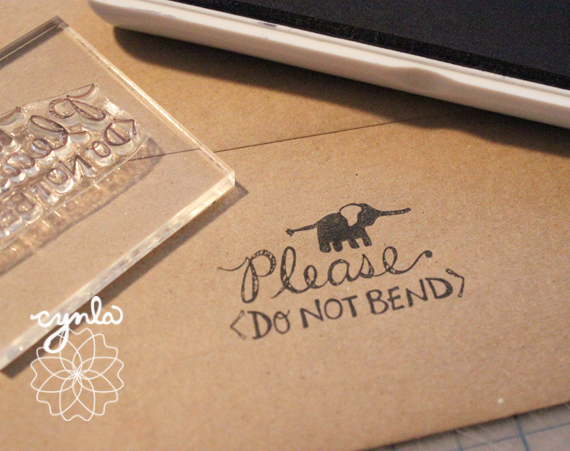 Just wanted to share the stamps I've designed for my mailings.
Please Do Not Bend Elephant is the newest one. Not to mention any names, but I would see people at the post office(s) bending my envelopes to see if they were bendable. The cards I mail out are technically "bendable," but I would rather not have people test this out on the products I am mailing, right? I decided to take some measures and designed this stamp. An elephant was the sturdiest, unbendable animal I could think of.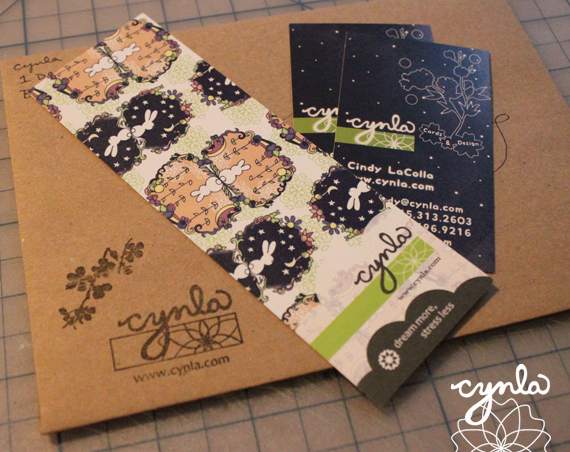 And here's an example of how I package my etsy orders. Packaged with care. I try to include two business cards — share one with a friend! — and for a limited time, orders will include a Bunny Haven pattern bookmark! There is space on the back to write notes – you know, to write down those tough words that you need to look up later. [Do people still do that now that smart phones are so available? I'm going to start again, now that I have a huge supply of bookmarks handy].
sign up for cynla blog updates

about me

Hi! Thanks for visiting. Drawing and creating has become a way for me to de-stress. I'd like to do it more often. This is a space for me to share my art and inspiration, my card designs, and to remind myself to stress less.

My card business and moving outside of NYC [gasp] is a new adventure in my life and I'm happy to be able to share it with you. Feel free to drop me an email cindy [ at ] cynla.com, leave a comment or two, or visit my website (www.cynla.com) and shop (cynla.etsy.com).

Happy de-stressing!

~ Cindy

from the shop

archives