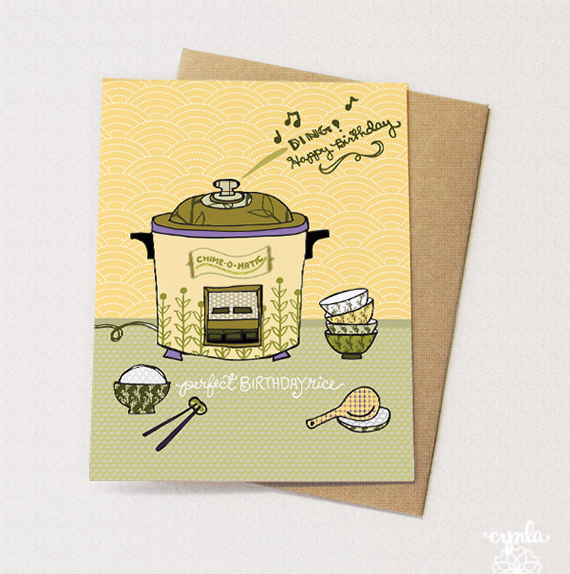 My Japanese mom had this old rice cooker she used while I was growing up. It has always made perfect rice and the ding announces when dinner is ready. When I went off to college, she decided to upgrade and I dragged it to my dorms with heavy bags of Japanese rice. I couldn't live without rice! She has been through 3 fancy rice cookers since and she always has complaints – too small, too loud, the rice comes out weird.. but I still love this rice cooker and she's not getting it back – sorry mom.  It has been making perfect rice for me in 4 college dorms, 5 NYC apartments and 2 Beacon homes, and I hope it lasts a really, really long time.
I decided to immortalize it in a card. For all of your rice cooker-owning friends who love their rice cooker as much as I do. It's part of a new classic kitchen series.
This card will be debuting at the National Stationery Show in May. If you're a wholesale buyer or shop owner, please contact me for more details and ordering information. You may also view my NSS preview gallery. Hope to see you at the National Stationery Show, Booth #2154!
sign up for cynla blog updates

about me

Hi! Thanks for visiting. Drawing and creating has become a way for me to de-stress. I'd like to do it more often. This is a space for me to share my art and inspiration, my card designs, and to remind myself to stress less.

My card business and moving outside of NYC [gasp] is a new adventure in my life and I'm happy to be able to share it with you. Feel free to drop me an email cindy [ at ] cynla.com, leave a comment or two, or visit my website (www.cynla.com) and shop (cynla.etsy.com).

Happy de-stressing!

~ Cindy

from the shop

archives