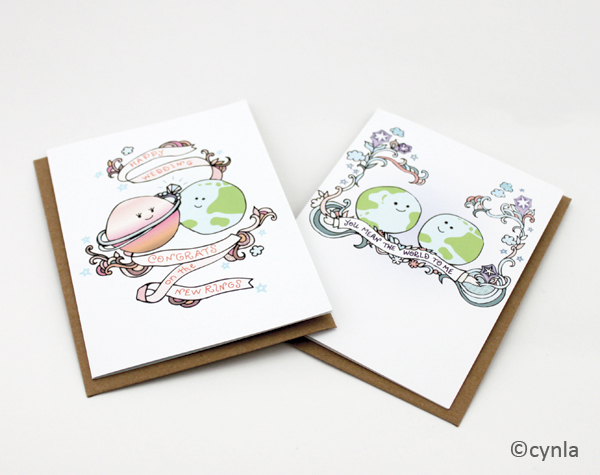 I'd like to spend the two weeks before the show sharing some new designs I've been working on. I've been busy! These two came out really cute I think. What does "You Mean the World to Me" mean when you say it? What does it mean when 2 worlds say it to each other? Would they actually say you mean the galaxy to me? I drew Saturn as a pretty planet with rings she received from her boyfriend – Earth. Hope you like them!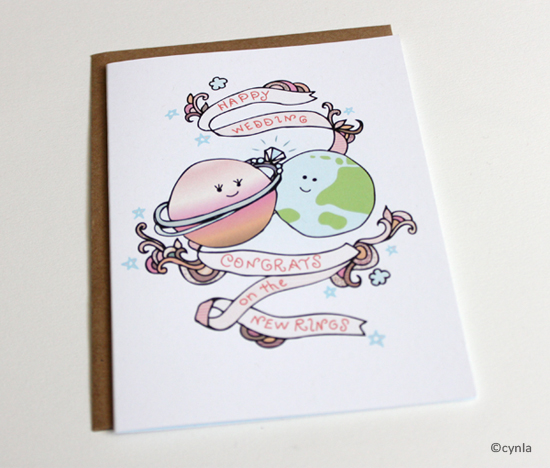 New Rings is a wedding card. Inside greeting reads
"Hope you have a shiny, happy wedding & a sparkling marriage!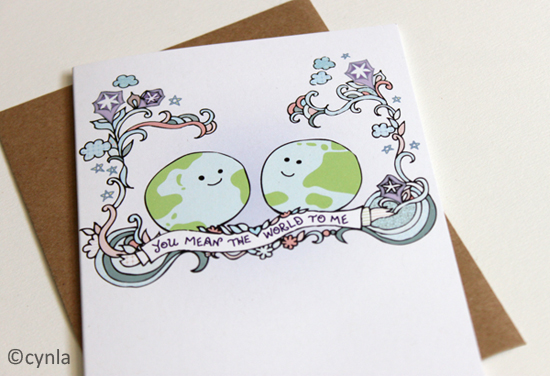 You Mean the World to Me Planet Card. Can be used for an everyday love card.
sign up for cynla blog updates

about me

Hi! Thanks for visiting. Drawing and creating has become a way for me to de-stress. I'd like to do it more often. This is a space for me to share my art and inspiration, my card designs, and to remind myself to stress less.

My card business and moving outside of NYC [gasp] is a new adventure in my life and I'm happy to be able to share it with you. Feel free to drop me an email cindy [ at ] cynla.com, leave a comment or two, or visit my website (www.cynla.com) and shop (cynla.etsy.com).

Happy de-stressing!

~ Cindy

from the shop

archives