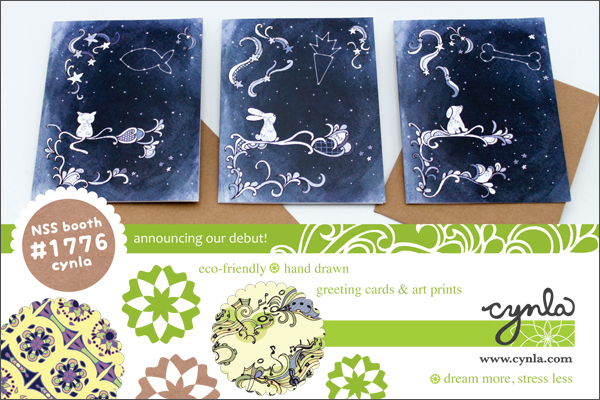 We're making our official debut at the National Stationery Show 2013 this May 19-22. The countdown is on! I have been very busy creating new lines for the show, putting finishing touches on my debut catalog and getting my booth ready for this oh so exciting tradeshow. It's going to be an amazing time meeting new people and hearing about their stores, displaying my greeting card lines amongst so many talented and veteran stationery designers, and finally getting to be a part of this giant tradeshow that is a huge part of this great paper industry.
If you are a wholesale buyer, stay tuned for the release of our first catalog! Many new designs will be up in our shop after the show. Our preview catalog can be viewed on our wholesale page.
Shown above is our NSS postcard featuring our popular Starry Cards. A whole line of Starry and Cloudy cards will be appearing at the show as well. Please visit Cynla in Booth #1776!
sign up for cynla blog updates

about me

Hi! Thanks for visiting. Drawing and creating has become a way for me to de-stress. I'd like to do it more often. This is a space for me to share my art and inspiration, my card designs, and to remind myself to stress less.

My card business and moving outside of NYC [gasp] is a new adventure in my life and I'm happy to be able to share it with you. Feel free to drop me an email cindy [ at ] cynla.com, leave a comment or two, or visit my website (www.cynla.com) and shop (cynla.etsy.com).

Happy de-stressing!

~ Cindy

from the shop

archives