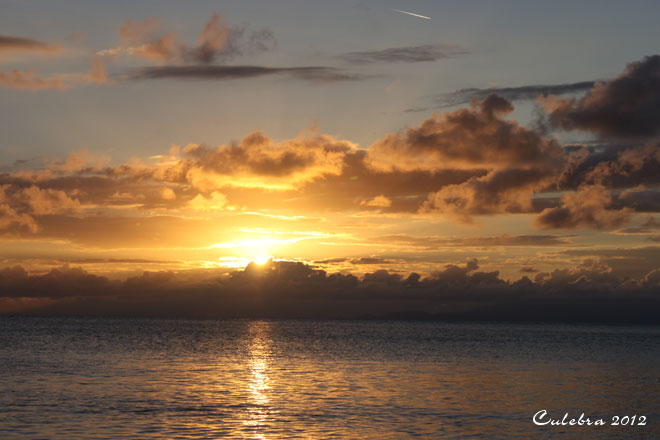 Oh vacation. I already miss you.. I spent the last week snorkeling 1-2 times a day, seeing all the beaches on the island, and chasing sunsets – literally. There was one day where we had to run to the beach to catch it. [The jeep behind us that didn't run missed it]. What a tough life. Culebra is absolutely beautiful, especially if you love snorkeling. We swam with the turtles, saw all kinds of coral and sea creatures including colorful fish, nurse sharks, manta rays, octopus, and tons more. There will be a ton of sea creature cards coming soon!
I feel like all the stress has been drained out of me. I made 2 card designs I'm really happy with yesterday and it was so EASY all of a sudden to be creative. Imagine that. For now, enjoy this sunset and the image below. My husband took this one and if I wasn't there, I would think it was photoshopped – It's the reflection of the beach in the back window of our rented Jeep. Love it.
That's all I have today as I'm catching up on work and life. More amazing snorkeling pics (and cards) soon.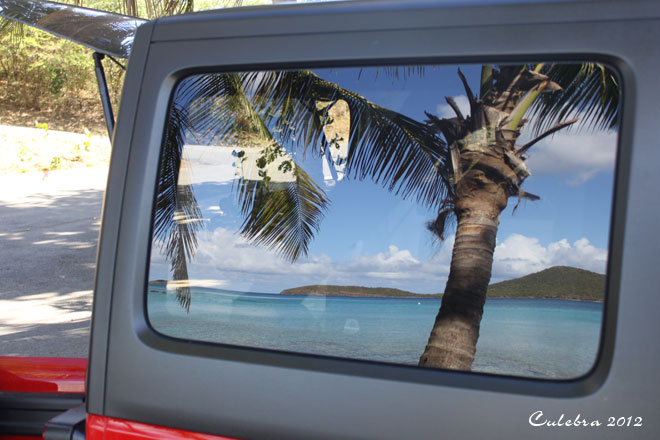 sign up for cynla blog updates

about me

Hi! Thanks for visiting. Drawing and creating has become a way for me to de-stress. I'd like to do it more often. This is a space for me to share my art and inspiration, my card designs, and to remind myself to stress less.

My card business and moving outside of NYC [gasp] is a new adventure in my life and I'm happy to be able to share it with you. Feel free to drop me an email cindy [ at ] cynla.com, leave a comment or two, or visit my website (www.cynla.com) and shop (cynla.etsy.com).

Happy de-stressing!

~ Cindy

from the shop

archives