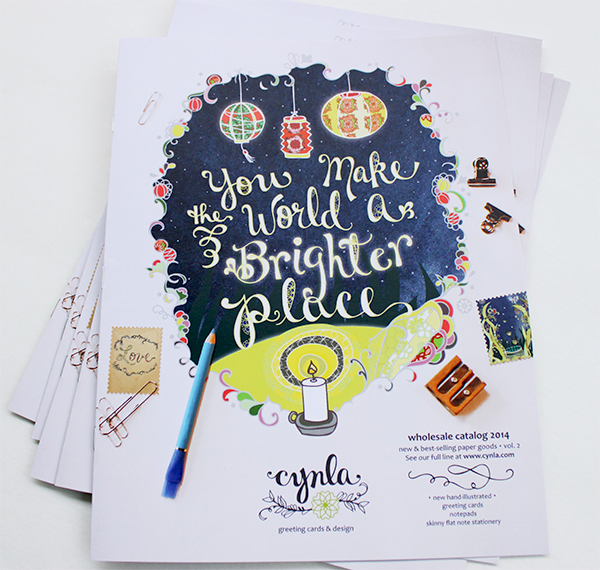 My wholesale catalogs are in! They'll be available in booth #2154 at the National Stationery Show.
The Brighter Place Catalog is the first with my new logo and refreshed brand. I have been focusing on hand lettering, more lush, intricate patterns in my designs and blank cards intended for boutiques. My birthday line is filled with kitchen appliances and pretty wish designs. There are new illustrated notepads intended as gifts for brides, gifts for new parents, and the daily adventure. Also introduced in this catalog are my skinny flat notes which are casual invitations to invite people to a coffee and chat, to get together for cheeseburgers, and even to "get together and talk about our cats." I worked really hard this year to develop my style for Cynla. I hope you like it!
I did a short 8-page printed catalog with an option to download a full 20-page one online. The full catalog has lots of gorgeous full-page images and patterns and the complete lineup of cards. If you're a retailer or shop, please contact me for the link.
sign up for cynla blog updates

about me

Hi! Thanks for visiting. Drawing and creating has become a way for me to de-stress. I'd like to do it more often. This is a space for me to share my art and inspiration, my card designs, and to remind myself to stress less.

My card business and moving outside of NYC [gasp] is a new adventure in my life and I'm happy to be able to share it with you. Feel free to drop me an email cindy [ at ] cynla.com, leave a comment or two, or visit my website (www.cynla.com) and shop (cynla.etsy.com).

Happy de-stressing!

~ Cindy

from the shop

archives