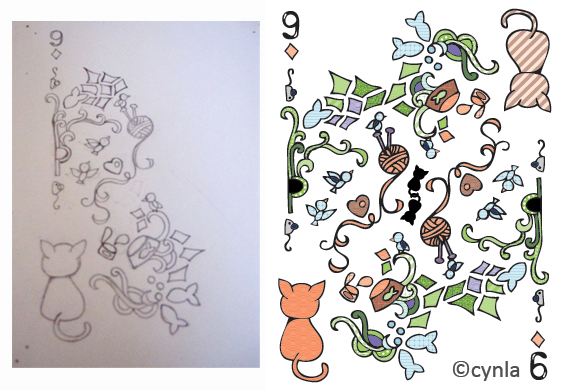 Here's the cat card card as promised. I love what happened when I flipped it. When I was tracing it, I tried to flip it and make the pieces fall into place on the other side so nothing would overlap and look odd.
I'm not sure I'm completely happy with the coloring. I had a comment that I should make the colors more bold. I'll see how that goes.
The cats in the middle weren't in the sketch, but I wanted them to interlock tails. Our cats do this, but it's more like they're flipped around and attacking each other's tails. Maybe one day when they grow up, they'll just friendly interlock, right?
Speaking of kittens, we're getting our cats spayed & neutered in 2 weeks. I'm really nervous about it and am afraid they're going to hate me. Some people said they'll be different kittens. Let's hope they'll like to be pet and held after this. If I draw more happy cat cards, maybe they'll get the message. [I promise every post from here on out will not be about my cats! But I'm sure they'll make it into a couple.]
sign up for cynla blog updates

about me

Hi! Thanks for visiting. Drawing and creating has become a way for me to de-stress. I'd like to do it more often. This is a space for me to share my art and inspiration, my card designs, and to remind myself to stress less.

My card business and moving outside of NYC [gasp] is a new adventure in my life and I'm happy to be able to share it with you. Feel free to drop me an email cindy [ at ] cynla.com, leave a comment or two, or visit my website (www.cynla.com) and shop (cynla.etsy.com).

Happy de-stressing!

~ Cindy

from the shop

archives