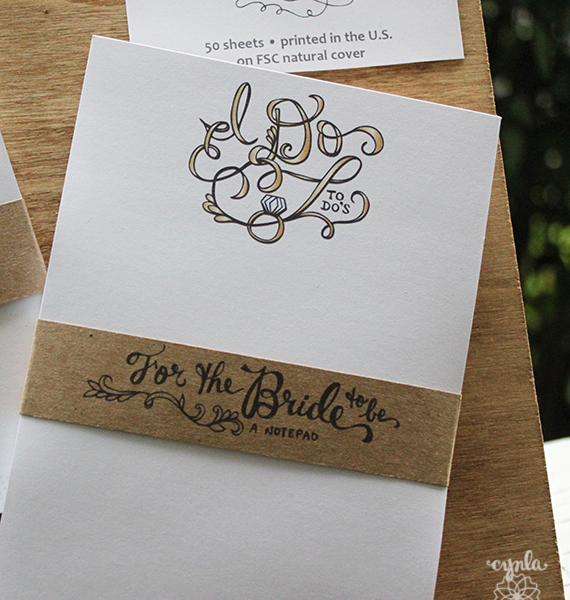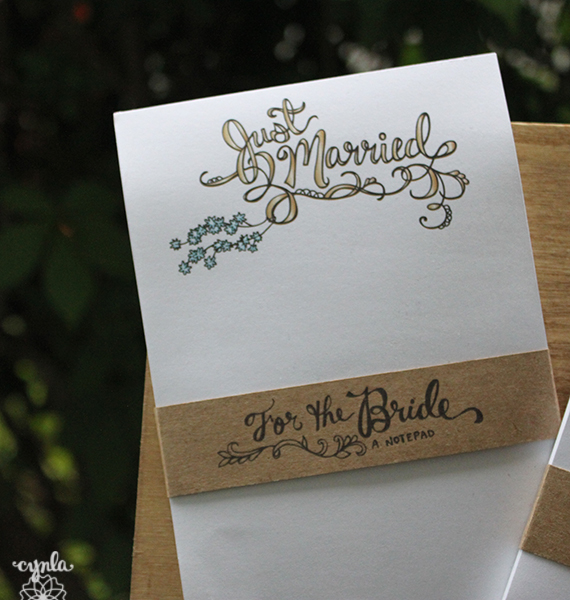 The lovely Jillian and Kylie over at 2 Hearts B 1 Designs has offered to host a giveaway of Cynla notepads! Head over to their inspiring wedding and invitation blog to enter to win one of my wedding notepads.
I know brides have a long to do list! Most of my bridal to do's were written on whatever was in my purse at the time. I wanted to create some wedding notepads that would make writing a to do list during this busy time a little more inviting. Even if you're not getting married, these would make an unexpected, useful gift for a bride to be.
Jillian and Kylie have really been great as we've been coordinating this giveaway. Head over here to show them some support! While you're entering yourself to win, check out 2 Hearts B 1 Designs. Jillian has some amazing calligraphy skills, and specializes in wedding details such as dessert table accents and even makes wedding scrapbooks!
To enter, visit their blog post and follow the instructions. You will be asked to follow us on facebook and instagram. If you already follow me, this will be easy! You can also head over here and see the notepads in my shop. Thanks and good luck!
sign up for cynla blog updates

about me

Hi! Thanks for visiting. Drawing and creating has become a way for me to de-stress. I'd like to do it more often. This is a space for me to share my art and inspiration, my card designs, and to remind myself to stress less.

My card business and moving outside of NYC [gasp] is a new adventure in my life and I'm happy to be able to share it with you. Feel free to drop me an email cindy [ at ] cynla.com, leave a comment or two, or visit my website (www.cynla.com) and shop (cynla.etsy.com).

Happy de-stressing!

~ Cindy

from the shop

archives