Currently viewing the tag: "ice cream card"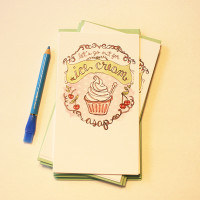 I could probably eat ice cream every day. If I invite people to go with me, then it's ok…
Part of my new Get-Together series of skinny flat notes. There is space to write a short note on the front and lots of space on the back.
This card will be debuting at the […]
Continue Reading

→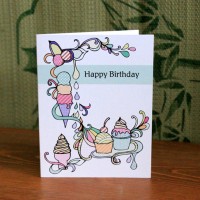 New cards available in our Cynla Etsy shop! A land of ice cream where all your cares melt away, Happy Birthday in blues for all of your happy birthday blues, and some Japanese lanterns in red and blue for brightening someone's day. The puns I know.. I think […]
Continue Reading

→
sign up for cynla blog updates

about me

Hi! Thanks for visiting. Drawing and creating has become a way for me to de-stress. I'd like to do it more often. This is a space for me to share my art and inspiration, my card designs, and to remind myself to stress less.

My card business and moving outside of NYC [gasp] is a new adventure in my life and I'm happy to be able to share it with you. Feel free to drop me an email cindy [ at ] cynla.com, leave a comment or two, or visit my website (www.cynla.com) and shop (cynla.etsy.com).

Happy de-stressing!

~ Cindy

from the shop

archives