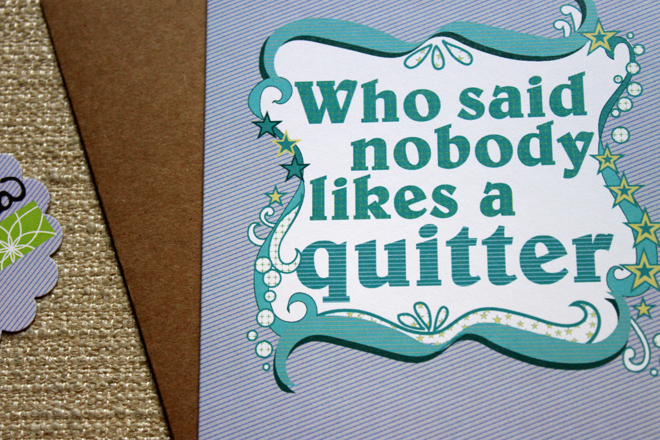 My top selling cards recently have been my Quitting Cards! I have had many single sales, but a non-smoking support group placed a big order as well. It may have to do with the new year and a new wave of people quitting smoking. I love supporting this cause and after my tradeshow, will have time to develop more quitting card designs.
Have you quit something this year?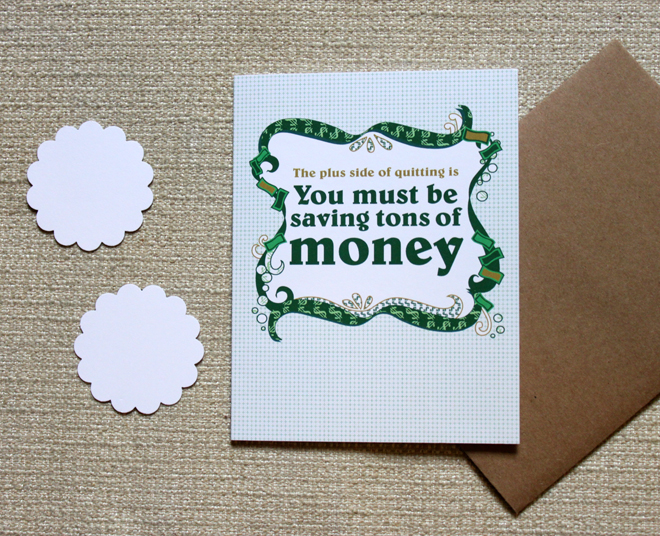 It has also got me thinking.. in 10-20 years, will there be as many smokers quitting? What will we be quitting then? Not that we need something new to quit..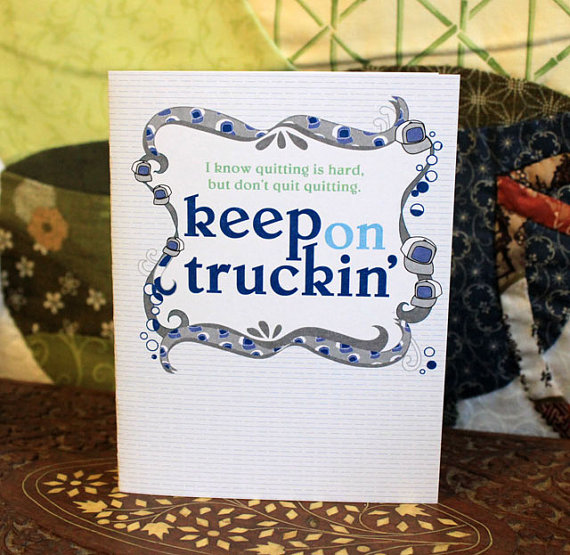 This keep truckin' design was created after I "interviewed" my friend Brian who has quit smoking for a couple years and is still successful. He said that you just have to white-knuckle it, keep trucking, and keep at it. I'm sure there is no other feeling like this and I'm so proud of my quitting friends. He also has said that the reason he doesn't start again is because quitting is the amazingly difficult part and he doesn't ever want to quit again. It sounds like good motivation to me. (There is a card in there somewhere.. don't quit again? Stick with quitting?)
It's really inspiring to do this for your family and for yourself. So here it is.. I lost my dad to cancer from smoking. It's really important to me to support quitting in some way, and supporting quitters makes me feel like I have some sort of say now, or control over this thing that has greatly affected me. If there were as many resources for quitters then as there are now, maybe he could've had help quitting. I understand it's hard, but this is one of those things that only gets harder. I'll just leave it at that.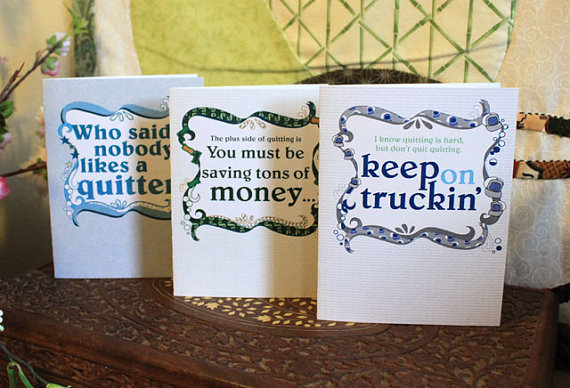 Anyways, I hope people enjoy these cards and I hope it helps the people quitting – letting someone know you support them in this difficult obstacle.
When you google "quit card" images, my cards show up on the first page! Lots of people have been finding them that way. Thanks for keeping my ratings up. If you want to support my quitting cards, please like them on Etsy, share them on pinterest or facebook (please link to either www.cynla.com or cynla.etsy.com), and buy them for that quitter you know and love. Thank you!
sign up for cynla blog updates

about me

Hi! Thanks for visiting. Drawing and creating has become a way for me to de-stress. I'd like to do it more often. This is a space for me to share my art and inspiration, my card designs, and to remind myself to stress less.

My card business and moving outside of NYC [gasp] is a new adventure in my life and I'm happy to be able to share it with you. Feel free to drop me an email cindy [ at ] cynla.com, leave a comment or two, or visit my website (www.cynla.com) and shop (cynla.etsy.com).

Happy de-stressing!

~ Cindy

from the shop

archives