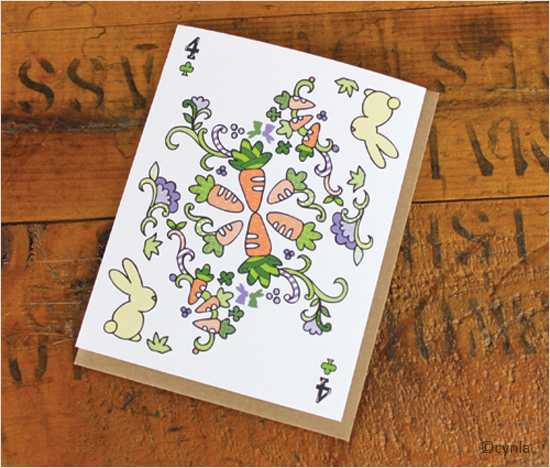 Remember the Cat Card Card? Well, now he has a friend… a bunny playing card greeting card! This one is a 4 of clubs because the bunny is looking for 4-leaf clovers always in his garden of carrots.
I think they go well together. I'm planning on doing more (the 52 cards sounds a little ambitious), but after the National Stationery Show, I'll decide if I can release one a month or one a year.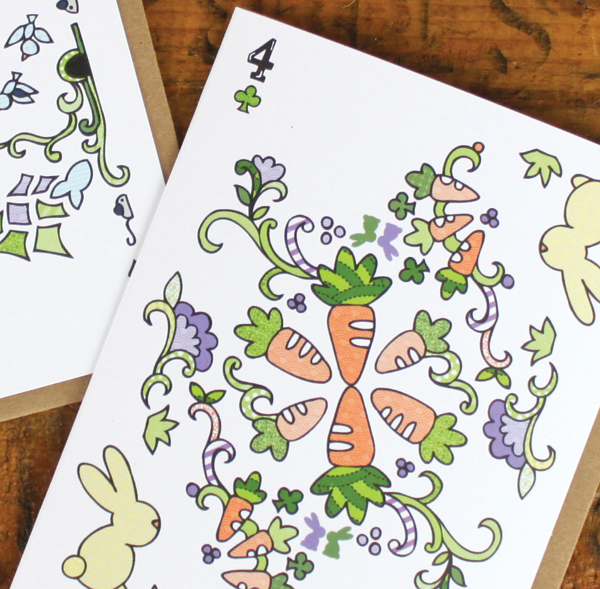 Hope you like it!
Also, between all the non-stop working and trying to live up to my cynla motto and not stressing, I just wanted to add that a lot of good things have been happening!
1. My newest of the new Cloudy Dog card (releasing at NSS) was featured in Stationery Trends! It's not online, but if you have an issue, I'm on page 84 right at the top! Very exciting!
2. My awesome card boxes came in. (another pic below)
3. The walls of my booth have been built by my awesome husband! No pic yet, but I'll be sure to post a lot of pictures of the finished booth at the show. He's been so awesome doing a lot of the business side of Cynla, building and painting walls, shelves and furniture and putting up with the non-stop talking about cards and the tradeshow. It's really all I've been thinking/talking about for weeks/months and hopefully all of the work will show.
Would also like to mention my mother-in-law Carole! She took me "booth shopping" which means you can't look at anything else besides potential booth furniture, table, stools, baskets, pencil cups – we got it all. I even got a tradeshow outfit and comfy shoes! Ok, it wasn't all furniture, but she kept me on task and it was a lot of hard decision-making. It's all coming together!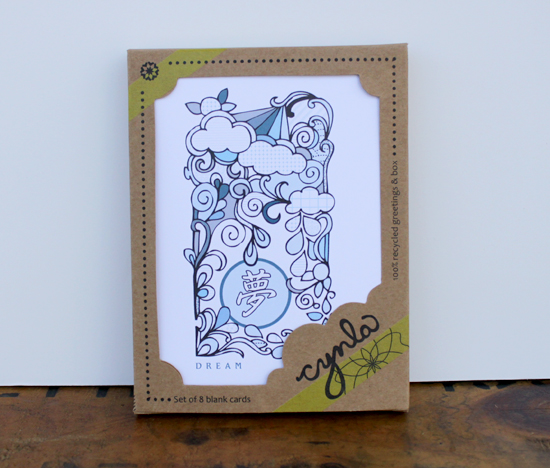 sign up for cynla blog updates

about me

Hi! Thanks for visiting. Drawing and creating has become a way for me to de-stress. I'd like to do it more often. This is a space for me to share my art and inspiration, my card designs, and to remind myself to stress less.

My card business and moving outside of NYC [gasp] is a new adventure in my life and I'm happy to be able to share it with you. Feel free to drop me an email cindy [ at ] cynla.com, leave a comment or two, or visit my website (www.cynla.com) and shop (cynla.etsy.com).

Happy de-stressing!

~ Cindy

from the shop

archives