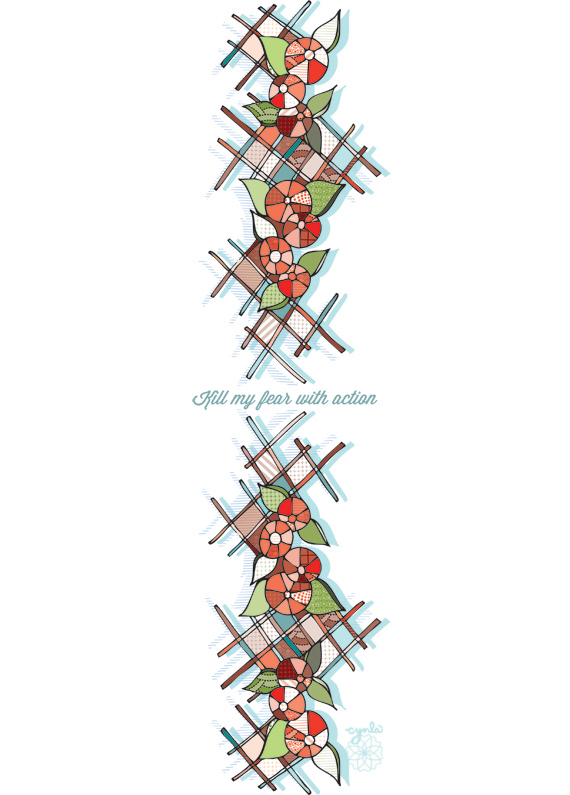 Well, kindness wasn't really working.. so I'm killing my fear in 2014 with action. I'm drawing every day in January to start.
In this article from the Philadelphia weekly, a songwriter described how creating every day affected him:
"Mann says creating something every day means you have to give up your self-censoring mechanism. The embracing community of Fun–A–Day helped him accept that some days are going to suck, most are going to be okay and some are going to rock."
My self-censoring mechanism has been very strong these days. Some days I spend hours on a pattern and still can't get it right. The days I don't make something "worth" my time, I feel distraught and untalented. It affects my whole day, makes me eat ice cream and kills my inspiration. So along with all of my other resolutions, I'm killing my fear, balancing any negativity with positive things in my life and making a resolution to let things go and keep moving.
sign up for cynla blog updates

about me

Hi! Thanks for visiting. Drawing and creating has become a way for me to de-stress. I'd like to do it more often. This is a space for me to share my art and inspiration, my card designs, and to remind myself to stress less.

My card business and moving outside of NYC [gasp] is a new adventure in my life and I'm happy to be able to share it with you. Feel free to drop me an email cindy [ at ] cynla.com, leave a comment or two, or visit my website (www.cynla.com) and shop (cynla.etsy.com).

Happy de-stressing!

~ Cindy

from the shop

archives